In the realm of sustainability, a key step that businesses often find themselves grappling with is the preparation of a materiality analysis.
This critical process forms the backbone of any sound sustainability strategy, guiding organizations to understand what really matters to their stakeholders and how these issues can impact their operations.
This article aims to demystify the steps involved in preparing a robust materiality analysis, offering invaluable insights and guidance to help businesses thrive in their sustainability endeavors.
Introduction
Materiality. To a sustainability amateur, this word probably has a completely different meaning to how a Social Responsibility professional would use it.
The materiality we discuss in this blogpost refers to that included in the GRI Sustainability Reporting Guidelines, the main standard used by companies to report on their activities. We will explain how to create a materiality analysis, which businesses need to complete every year to share their performance with stakeholders.
Materiality Analysis Context
Before we dive into how to do a materiality analysis, let's look at some context about this tool.
What is a materiality analysis?
A materiality analysis is a process that enables a business to identify their most important areas to focus on so that they can be highlighted as a priority, as well as to understand which are of most concern to stakeholders and how they impact the business model (and vice versa). Materiality analyses also help to align sustainability strategy with stakeholder expectations.
As the GRI recommends, a sustainability report needs to reflect:
The significant economic, environmental and social impacts of the organisation.
Any information to do with ESG that substantially influences the assessments and decisions of stakeholders.
Impact is understood as the effect that an organisation has on the economy, the environment and/or society (both positive and negative). An issue can be relevant (and therefore potentially material) based on only one of these three areas.
Who can perform a materiality analysis?
Any company or organisation can perform a materiality analysis to understand which areas are relevant to their management, but especially companies that have been preparing sustainability reports for some time and are already familiar with them, which allows them to focus on the use of resources to generate maximum impact with stakeholders.
Benefits for the business
The materiality analysis is an essential component of an effective corporate sustainability strategy. It provides a solid foundation for making informed decisions about priorities and actions to take.
By integrating a materiality analysis into their operations, a company can gain significant benefits that can drive both their business performance and their sustainability profile. The main benefits include:
Risk Mitigation: The materiality analysis identifies the environmental, social, and governance (ESG) risks that are most relevant to your business. By understanding and addressing these risks, you can avoid costly legal, reputational, and operational issues. Additionally, effective risk management can lead to increased trust and credibility with investors, customers, and other stakeholders.
Focusing Positive Impact and Minimizing Negative Impacts: The materiality analysis allows you to identify and prioritize the areas where your company can have a significant positive impact. At the same time, it helps minimize negative impacts in these areas. This can lead to greater operational efficiency, improvements in the company's reputation, and an increase in customer and employee loyalty.
Improved Communication with Stakeholder Groups: A well-done materiality analysis reflects the involvement and expectations of your stakeholder groups. This can improve relations with these groups and promote more open and effective communication. By understanding and responding to their concerns, you can increase stakeholder satisfaction and loyalty, which in turn can result in long-term business benefits.
In short, a materiality analysis can provide your company with a clear vision of its sustainability priorities, helping you make more informed decisions, better manage risks, and create lasting value for your business and for all your stakeholder groups.
What are the steps to take to prepare a materiality analysis?
We at APLANET have created a list of five steps to follow:
1. Clearly Define Stakeholder Groups
Stakeholder groups can vary widely depending on the industry and type of business, but may include shareholders, investors, employees, suppliers, customers, communities in which you operate, NGOs and media. Understanding who your stakeholders are and what issues are important to them is the first step in conducting a materiality analysis.
2. Create a Benchmark
Benchmarking allows you to compare your company with others in the sector to identify best practices and current trends regarding material issues. It gives you an idea of where your company stands in terms of sustainability, which can help you set realistic and measurable goals.
3. Consult Stakeholder Groups
Conducting consultations with your stakeholder groups can provide valuable insights into areas where your company is performing well and those that require improvement. It can also help identify new opportunities to enhance sustainability. These consultations can be carried out internally with employees, as well as externally with other stakeholder groups.
4. Analyse the Results of the Surveys
Following the consultations, it is important to analyse the results to gain a clear picture of the material issues for your company and your stakeholders. This analysis can help determine which issues are most relevant and should be prioritised.
5. Prioritise the Issues in Order of Importance
Based on the results of the analysis, you should prioritise the issues in order of importance. This should be done in collaboration with the board of directors and the management committee to ensure the company's sustainability strategy is aligned with its overall goals and capabilities. The issues should be illustrated in a materiality matrix to visualise their relevance to the company and its stakeholders.
Conducting a materiality analysis effectively can help a company identify and address the most important sustainability issues, reducing risks and capitalising on opportunities to improve its sustainability performance.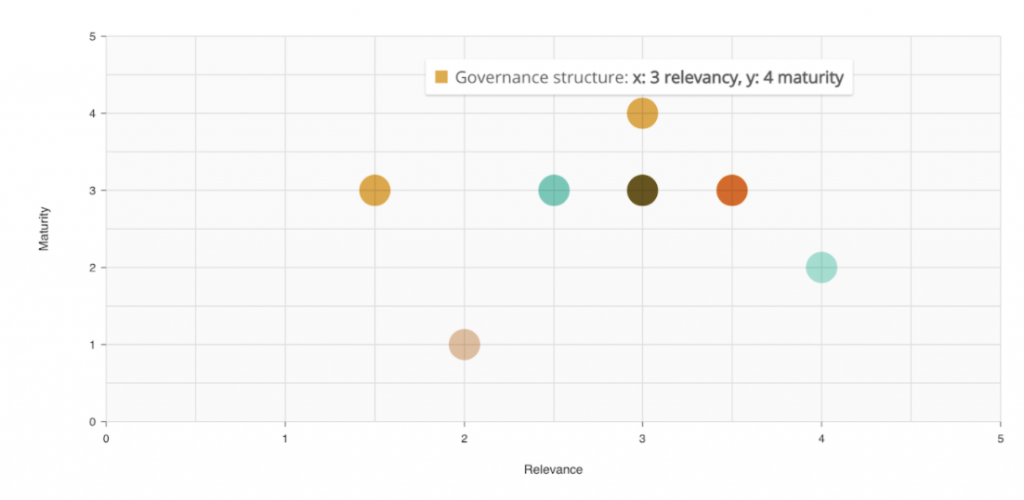 Tips to materiality analysis
Here are some tips that you may find useful to carry out a materiality analysis in your company in an effective way:
Use sustainability standards such as the GRI or the SASB to help you, remembering that a business can work on their relevant issues in order to manage and minimise any negative impacts.
Use the support of senior management in the promotion of sustainability
Use tools and technology to monitor indicators. Continuous monitoring of ESG commitments requires time and resources from the company.
Solutions such as SUSTAINABILITY make the process of monitoring indicator performance, and the efficient collection of ESG information, much easier.
---
Subscribe to our resource hub to keep up to date with the latest trends in the sector