Corporate environmental, social and governance (ESG) strategy in recent years has focused on tackling climate change, placing the Environmental aspect as a higher priority issue above the Social or Governance spheres. In the next decade, new challenges are expected to come to the fore, posing a new crossroads for companies that must analyse these challenges in advance in order to achieve their sustainability goals.
💡 If you are new to our blog and want to know more about ESG criteria read this article.
Forecasts for this year
2020 marked the entry into the so-called "decade of action" or "make or break era". Whatever happens in this decade will be decisive, with the end result potentially leading to success or failure. Issues such as the biodiversity crisis, climate change and social inequality will reach a point of no return in the next 10 years. From a business perspective, managing the multiple challenges in sustainability involves "defining the purpose, financing, governance and internal management, resilience and opportunities", as Germán Granda, Director General of Forética, points out. Forética is the leading business network for sustainability and corporate social responsibility (CSR) in Spain and Latin America.
According to the World Economic Forum's new global risk report, environmental and social issues have seen the greatest increase in their risk levels since the start of COVID-19. In the next two years, the risks that will have the greatest impact will be the following:
Erosion of social cohesion
livelihood crisis
failure of climate action
deterioration of mental health
extreme weather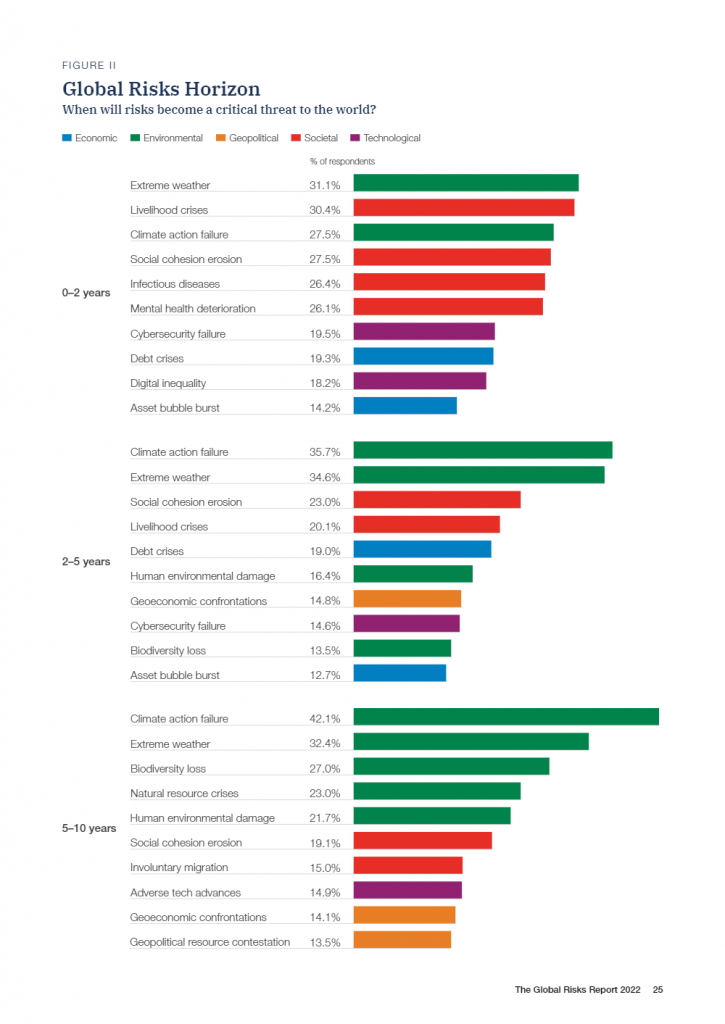 ESG trends
1. Climate
Achieving Net Zero emissions in the supply chain is taking centre stage and requires greater monitoring and reporting as businesses demand more transparency from suppliers. In terms of finance and investment, to go further in reducing emissions, environmental benefits will be created through climate positive measures. In addition, companies that want a decarbonised (net zero) portfolio will divest from environmentally-pollutant projects where no other options exist. According to Spainsif's forecasts, "as governments and supranationals issue bonds to pay for them, they could drive a large-scale expansion of the green bond market" to finance climate action.
2. See ESG not by separate acronyms
The S&P Global report highlights that it does not make sense to take ESG concepts separately or in isolation because they are interconnected, with S, E and G all overlapping. For example, climate transition strategies will increasingly encompass social issues. This is why we refer to an inclusive green transition, i.e. managing change with climate policies that do not compromise the health of the most vulnerable or exclusively harm certain communities. Good corporate governance ultimately means expanding the requirements and scope of ESG.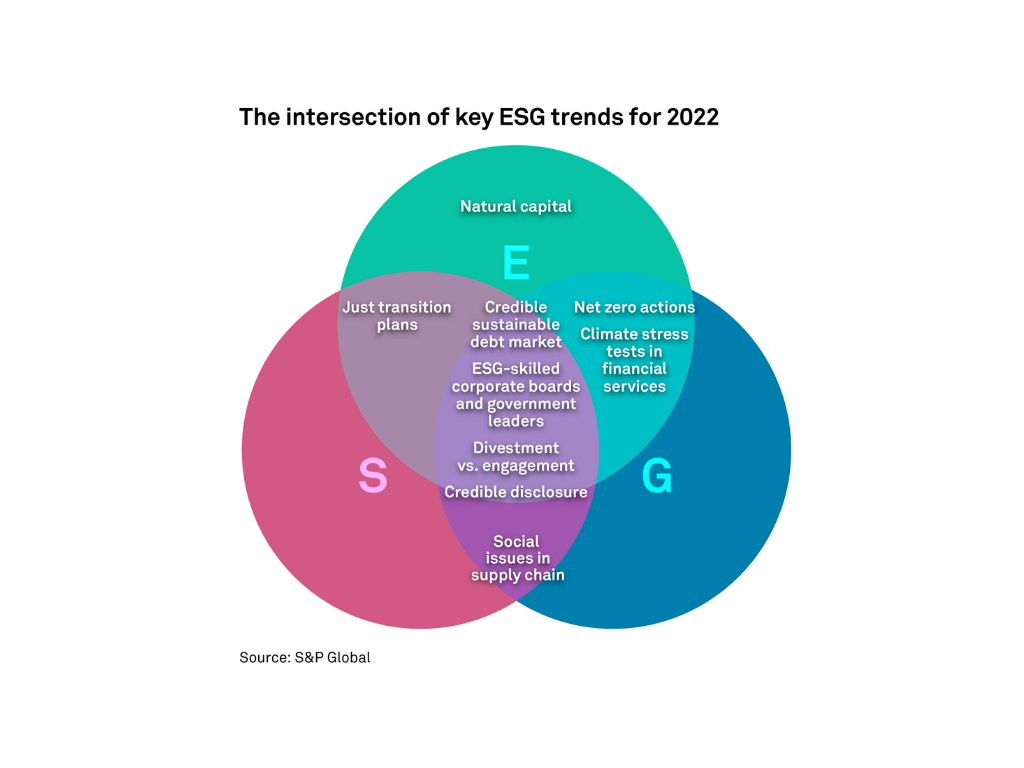 3. Making ESG Viral
The terms used to talk about ESG need to be homogenous in order to avoid "greenwashing". This is achieved through regulation and correct labelling. Regulation allows for a level of convergence, although there still remains fragmentation due to different priorities at a regional level. Using ESG standards correctly and taking into account their limitations – what they include and what they exclude – should also make ESG a viral phenomenon.
CSR trends
Biodiversity: forgotten in the corporate world
Companies need to start putting biodiversity at the centre of their CSR strategy by including more nature-based solutions in their investments and projects. To achieve this, a holistic view of how ecosystems function in nature must be taken into account and projects that contribute to making resilient, self-regulating and autonomous environments that contribute to halting biodiversity loss must be developed.
Social commitment
Developing the social side of business will become a priority. As demonstrated by the predictions of the World Economic Forum, the social aspect of ESG is the current most-affected area by the pandemic. Forética recommends directing business action towards health and sustainability:
"with a focus on mental health, reinforcing the ability to generate competitiveness in organizations through talent management, with the aim to achieve a fair transition of the most vulnerable in terms of employability towards the future of work, and to enhance the role that companies play in social transformation in the face of the challenge posed by inequality gaps".
This is also influenced by corporate governance as shown in the following diagram: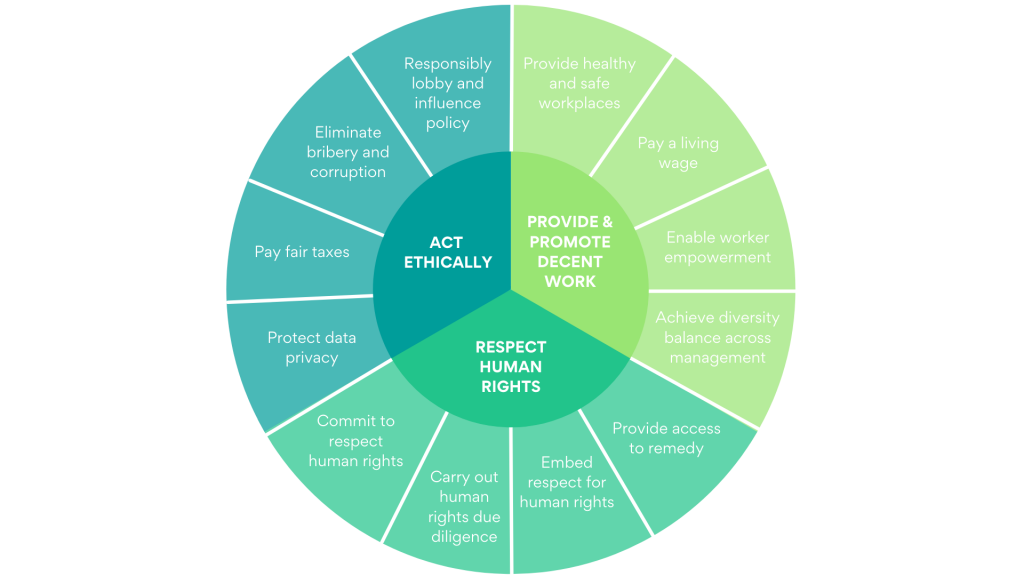 A matter of trust
One problem reflected in the Edelman Trust Barometer is the lack of trust in business, government and the media, that they are committed to fighting climate change. This reflects the fact that citizens do not see a real commitment to climate action from collective decision-makers. Restoring trust and conveying consistent and transparent messages is "increasingly central to stakeholder relations" according to Forética's 2022 analysis.
---
Subscribe to our resource hub to keep up to date with the latest trends in the sector