In a world where more and more organisations are joining the fight against climate change, companies are taking the initiative to drive an environmentally responsible business model. Regardless of their sector, companies are increasingly seeking to include decarbonisation into their objectives. But is decarbonisation – or net zero emissions – the highest target that companies can aspire to achieve?
Indebted to the planet
Given that around 50 billion tonnes of greenhouse gases (GHG) are emitted globally each year, simply reducing one's own carbon footprint will not put an end to the problem. Human activity is making carbon targets, set to limit the effects of climate change, harder to reach. By 2050, global GHG emissions must be close to zero if we are to limit the global temperature increase to 1.5°C above pre-industrial levels. According to the Intergovernmental Panel on Climate Change (IPCC) report, achieving this target will mean that:
"Our world will suffer less negative impacts on the intensity and frequency of extreme events, on resources, ecosystems, biodiversity, food security, cities, tourism, and carbon removal."
Businesses are a key part of this challenge and must set ambitious targets to meet this goal. The reality is that with the current GHG levels currently present in the atmosphere, it would take "hundreds of years for our climate to regulate and start to cool". In this fight against time, the Climate Positive approach aims to tackle this issue by mapping out a new direction.
Defining the Climate Positive approach 
Although there is still no concrete definition or standard for Climate Positive, the necessity of this concept has been confirmed by the fact that we have already exceeded five of the nine planetary boundaries. These systems are responsible for regulating the stability and resilience of our ecosystems, and breaching these limits increases the risk of abrupt or irreversible large-scale environmental changes, thus leaving us in a dangerous position.
When it comes to combating climate change – one of the nine boundaries – man-made emissions are in the spotlight. As a consequence, a product, entity or place can be defined as Climate Positive if it removes more harmful emissions than were created during its life cycle or activity.  Climate Positive and Carbon Negative share the same meaning: absorbing CO2 emissions already present in the atmosphere while mitigating any new emissions (net zero carbon emissions). Therefore, being Climate Positive is based on implementing supplementary measures with the purpose of creating an environmental benefit.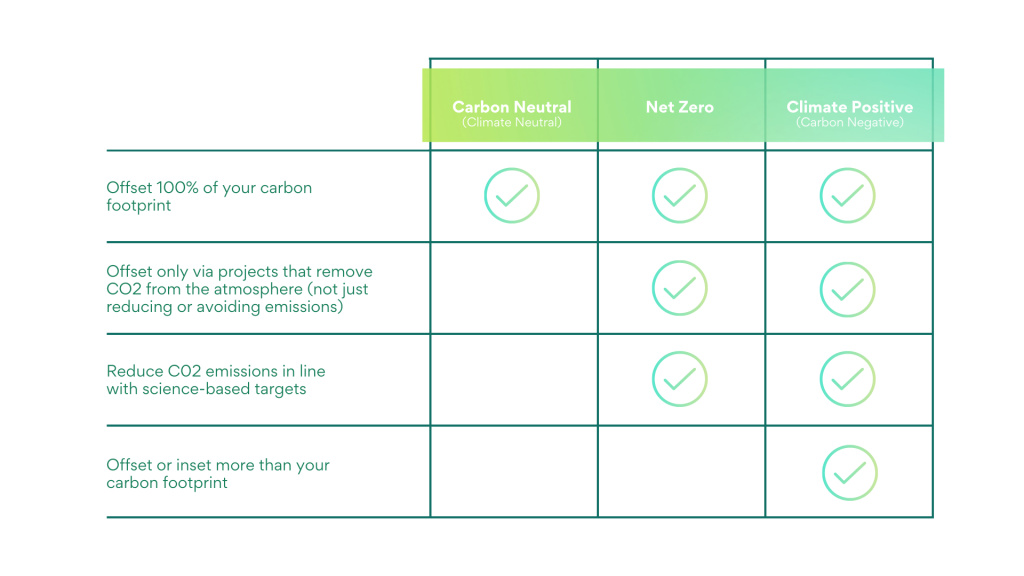 How can a business become Climate Positive?
Broadly speaking, for a company to be considered Climate Positive it has to follow three steps: measuring, managing and offsetting its footprint. Further steps should be added to unlock the full potential of this strategy so that the company can lead change and increase the efficiency of their activities, which is where innovation and the promotion of best practices come into play.
Calculate
To measure the carbon footprint of an initiative, a holistic view is necessary, which can be achieved by analysing emissions from start to finish. Carbon accounting frameworks estimate the emissions produced by looking at the inputs, energy sources, supply chain and waste management, among other things.
CO2 is not the only emission to be taken into account: other gases such as methane or nitrous oxide are just as relevant. The GWP index – Global Warming Potential – is a way to measure the other GHGs involved in global warming and to add them to our carbon footprint.
Manage
After having successfully identified the relevant sources of greenhouse gases, emissions reduction takes action. By setting Science-Based Targets, a roadmap can be defined to reduce emissions by finding solutions, such as switching to renewable energy, reducing waste, supporting local production, electrifying transport, etc. It is important to maintain circularity at every stage to reduce the impact of our activity.
Offset
To be Climate Positive, an initiative has to remove GHGs from the atmosphere to create an environmental benefit. In this way companies can offset the emissions they inevitably will produce. These measures are carried out through carbon offsetting by using nature-based solutions to capture carbon. Carbon offsetting can also be done by using technology or investing in environmental projects such as renewable energy.
Innovate
The key role of innovation and investment in R&D translates into new ways of countering climate change in different sectors. Using unconventional ideas and investing in these projects can make a difference in the race against time to mitigate climate change.
Spread the word
Getting as many people involved with the Climate Positive goals as possible is beneficial for society as a whole. By circulating success stories and best practices, the issue will achieve greater visibility and the number of people involved can be maximised. This synergy generates a stronger impact and contributes to more engaged suppliers, employees and customers. This also fully depends on transparent reporting of Climate Positive initiatives and results.
Businesses must actively and responsibly participate in climate policy making. For WWF, achieving the Climate Positive ambition means collaborating with other companies and organisations on shared solutions to empower and inspire consumers.   

Being climate-positive is a way for companies to lead climate action. The word "responsibility" has become synonymous with "taking action": following an ethical path and creating synergies for inclusive change.
---
Subscribe to our resource hub to keep up to date with the latest trends in the sector