Global warming is the greatest threat looming over humanity. Avoiding or, at least, reducing its impact requires complying with international emission reduction agreements . These pacts, based on scientific consensus, propose reaching the goal of Net Zero by 2050, but what does this 'race to zero' really entail?
What is Net Zero and why do we need to reach net zero emissions?
Entities that commit to achieving net zero emissions must minimize the quantity of greenhouse gases (GHG) they emit into the atmosphere. This requires advancing with decarbonization, the substitution of carbon-based energy sources.
However, achieving this highlights the greatest challenge in the fight against climate change . Vijay Vaitheeswaran, global energy and climate innovation editor of The Economist , explains:
Embracing, enacting and scaling a negative emissions plan to get to Net zero is a herculean task. This is something far bigger than the moonshot or other intiatives that it's often compared to because this involves every economy on Earth, every government and ultimately every citizen. All of us have to be involved and change the way we live. And it's not just a technological revolution, we need a revolution in our mindsets.
Definition of Net Zero
Net Zero is the state of climate impact reached by an entity when its emissions are equal to its removal of GHG from the atmosphere. In practice, this involves minimizing the amount of GHG released and removing or absorbing the polluting gases that are produced from the atmosphere.
Net Zero is the internationally agreed goal to mitigate the effects of global warming in the short term. However, there are different terms (Carbon Neutral, Net Zero, Climate Positive ) that point to different ways of accounting for carbon sources and sinks. These terms help indicate what is and is not included in an environmental footprint calculation or target. The action plans related to each term reflect the commitment that companies and institutions put in motion to reduce their emissions to a minimum.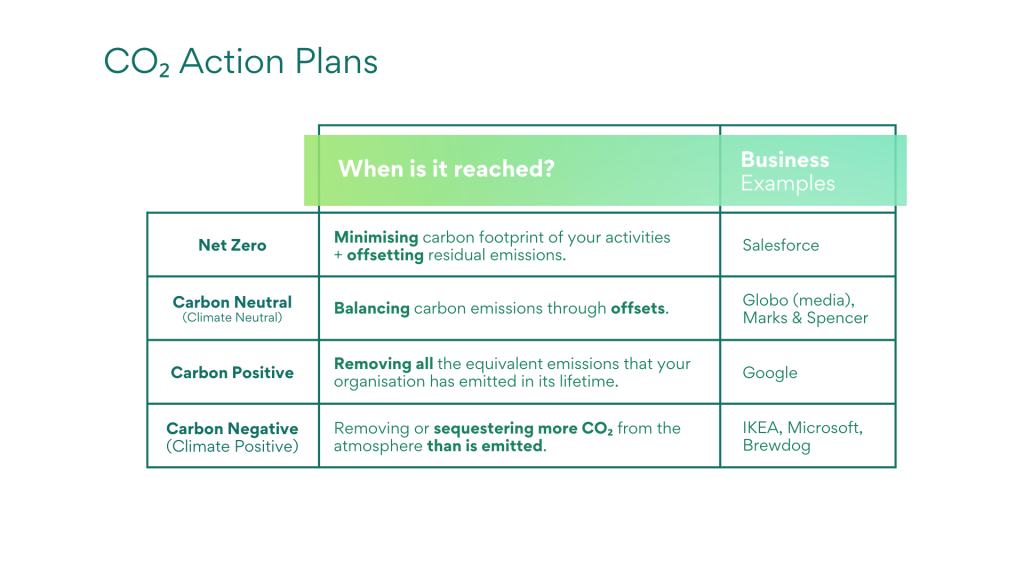 Global context and Net Zero commitments
The term Net Zero is important because, at least in the case of CO₂, when net zero emissions are reached, global warming stops . This approach arises from international commitments, such as the 2015 Paris Agreement, which set the objective of keeping global warming 2ºC lower than the pre-industrial era.
Meanwhile, scientists from the Intergovernmental Panel on Climate Change (IPCC) call for more efforts. This UN body ensures that the 1.5ºC limit marks a point of no return. To avoid this, they have proposed that companies should be Net Zero by 2050. Governments reached this consensus at COP 26, the United Nations Conference on Climate Change, in 2021.
Among the most committed countries are those of the European Union. The 27 members, like the United States, want to be climate neutral by 2030 which means that by then, emissions should be reduced by 55%. China sets this target for 2060.
However, the United Kingdom has been the first country to commit by law to have neutral emissions in 2050. For its part, the EU has published a regulation for the dissemination of non-financial information in companies. The EU taxonomy classifies sustainable activities and requires the publication of environmental business plans.
Although these agreements are encouraging, no one is yet reducing the so-called Nationally Determined Contributions (NDCs). These NDCs refer to the short term until 2030. The Climate Action Tracker experts believe that, if no efforts are made in this decade, the 1.5 ºC limit will be exceeded. As of now, scientists predict that it will exceed between 2.4 ºC and 2.7 ºC in 2100.
In this battle, we must also consider what each country deems carbon neutrality to be. While the EU includes any greenhouse gas, other countries around the world, such as China, only focus on CO₂.
How to get started on the Net Zero path
With these global targets, companies face important changes. They must get on track for zero net emissions as soon as possible, which means taking firm steps.
The way forward for zero emissions
The first step is to achieve climate neutrality , denoted by the goal of zero polluting gases by 2050. However, we need to go further; we need to make a positive climate impact: eliminating much more from the atmosphere than is emitted.
To achieve this, different strategies have been proposed:
– Reduce : Reorganize the value chain to eliminate all possible emissions. It is very important to set both long-term and short-term goals.
– Compensate : Draw up an investment plan in sustainable projects. In this way, emissions that are impossible to reduce will be compensated.
– Neutralize : Once emissions have been reduced to a minimum, carbon removal processes must be applied to achieve neutrality.
Looking further afield, companies should aspire to achieve the so-called positive climate. This concept proposes to implement actions that benefit the environment.
Net Zero Initiatives
To reach the objectives set, companies can activate many initiatives.
SBTi
One of them is to adhere to the SBTi standard, the first protocol for zero emissions. In effect, it is a framework based on scientific knowledge about neutrality. SBTi sets a series of objectives for reducing emissions and it proposes several alternatives to achieve them.
It is important to keep in mind that these objectives are not met overnight. That is why the process must begin as soon as possible.
CISL Net Zero strategy for companies
CISL is a framework from the University of Cambridge . It is based on four key points:
Alignment between business purpose and the business model. Companies will put climate goals at the centre of their action.
Establishment of commercial objectives based on scientific evidence. It proposes that companies guide their strategy according to scientific parameters and measuring their attainments. In this sense, it is crucial to work with the GHG Protocol, which establishes global standards to quantify emissions.
Inserting carbon neutrality practices into business operations and the value chain. It aims to infuse the idea of zero emissions at every point of business activity.
Commitment: each company is expected to contribute to spreading this philosophy in their areas of activity.
Steps to Net Zero
The strategy must be based on clear actions. For example, replace elements that generate emissions, implement sustainable energy sources and opt for electric vehicles.
1. Understand risks and opportunities
This transition presents a series of opportunities to improve processes, optimise production and even enhance public image.
However, the process is not risk-free . Sometimes the measures, tactics and strategies are poorly chosen, which translates into extra expenses for the company.
2. Impact study
To minimise these dangers, impact studies must be carried out . These are analyses carried out by specialised companies, whose technicians will study the structure of the company and its environmental impact. The objective will be to knowthe carbon footprint it produces and propose reductions.
3. Net Zero Strategy
Once those values ​​and the points on which to act have been identified, a strategy should be implemented . Again, a specialised firm can advise on the design of this project.In this way, some of the tried-and-tested strategies can be applied, such as the aforementioned Cambridge CISL .
4. Implement reductions
With the strategy outlined, efforts to reduce emissions will start to take place. All the areas in which emissions can be eliminated will be identified and these polluting elements will be replaced.
Of course, this is not always straightforward. It will be necessary to search for and finance alternatives: establish energy sources, acquire new means of transport or renew production techniques.
5. Offsetting
The strategy must emphasise the importance of a balance which is based on carbon offsetting. In other words, it will be necessary to invest in projects based on natural solutions, with no carbon footprint. Of course, in this regard, it is essential to avoid initiatives that only seek greenwashing .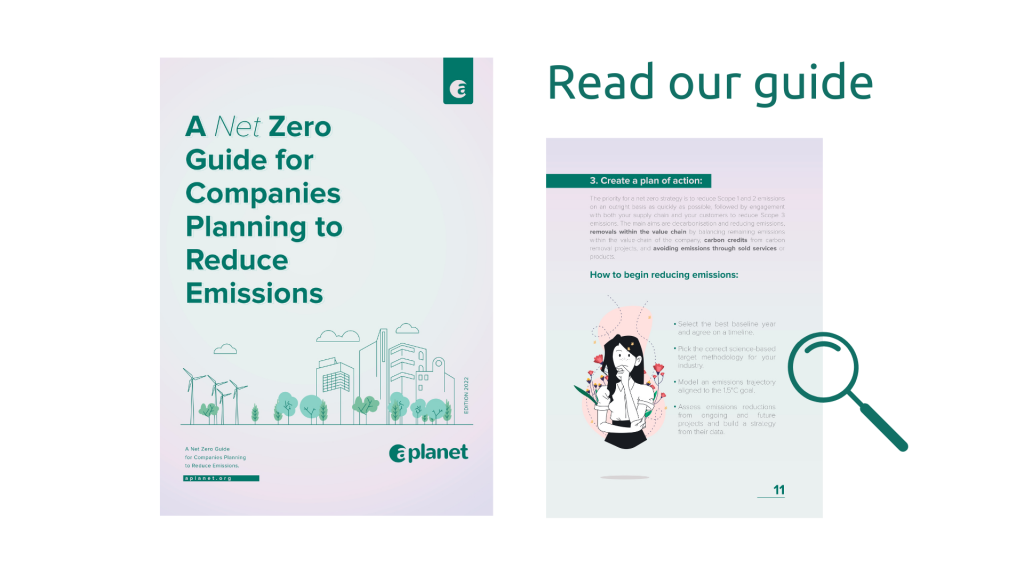 How to reach the 2050 target
Without a doubt, the road to 2050 is arduous. We need to make sure we rely on all possible resources to reach the goal, including the circular economy .
Circular and regenerative economy
This concept of circularity is based on sharing, renting, reusing, repairing, renewing and recycling materials and products. It seeks to extend the life cycle of things, and it can also be applied to the energy.
On the other hand, the notion of a regenerative economy intends to integrate all these practices in a business management philosophy. This vision aims to see equity and social welfare exist through green companies and clean technologies.
Examples of Net Zero companies
All these ideas are already underway. One of the leading companies in this regard is Google , which has proposed that all its data centres run on green energy by 2030. For its part, Microsoft has committed to doing so by 2025.
Achieving climate neutrality in such a short period is quite a challenge since it requires maximum coordination between politicians and investors and the use of technologies that innovate in carbon reduction.
In this sense, a fundamental step is to measure the carbon footprint. It can be done, for example, with APlanet Neutrality , a platform that carries out these measurements throughout the value chain. With the software, scope 1, 2 and 3 emissions can be calculated in accordance with the GHG Protocol.
It is important to have the best specialists in this Net Zero journey as it's not about going fast, it's about going the distance. Do you want to take action? Contact us.
---
Subscribe to our resource hub to keep up to date with the latest trends in the sector